E-licious E-Cookbook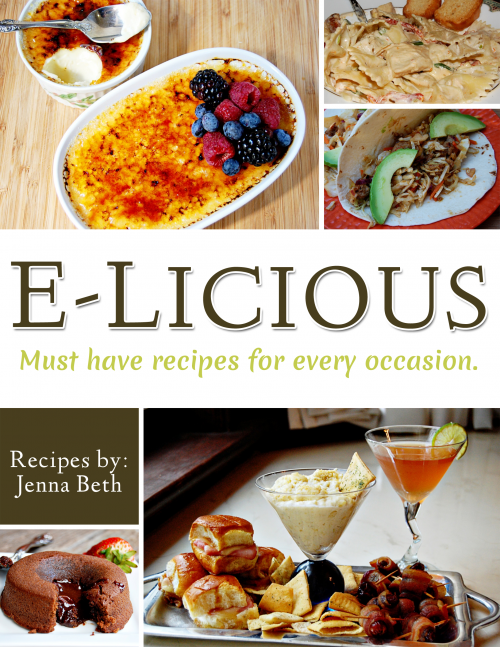 E-licious : must have recipes for every occasion
You'll find inside:
Over 45 delicious recipes with easy to find ingredients.
10 sections like :Weeknight Meals, Crock-pot meals, Date Night, Backyard Barbecue and more.
Recipes like Strawberry Spongecake, Chicken Divan,  Shrimp stir-fry and more that your family and friends will love.
Even more recipes using my most popular recipe Sticky Chicken.
Cooking delicious, yummy meals at home instead of eating out will save you much more than the cost of this book, which is only $4.99.  So what are you waiting on?
Reviews from readers:
Brittany Albers said: Thank you so much for making such a great cook book Jenna! In some books you get recipes that you look at and think,"No I won't be making that" or "That really doesn't sound worth the time". In Jenna's cook book, EVERYTHING sounded fantastic! There has not been one recipe that I have seen that I will be skipping over! This has been the best $5 I have spent on anything in a while, and trust me, it will be used! I have already made a few of the recipes that were featured on Jenna's blog and they are keepers around our house now! I especially love the crockpot chicken. I cooked two meals(recipes that I also got off of your blog) that week and had plenty of chicken left over for salads! You will not find a better deal, for better recipes. Thank you Jenna for sharing your skills with us!
 Helene said "I can't wait to try some of the recipes!!  Beer can chicken…seriously?  It looks so good!  And the loaded nachos…my kids would LOVE those!  In fact, I think I'll include the nachos on my menu plan for next week (I've actually been doing a menu plan and sticking to it and I can't believe how much smoother the whole dinner routine has been, not to mention how much $$$ I save)."
You can  purchase a  Kindle version through Amazon click here.

If you'd like to purchase a pdf version please contact me.
I'd like to thank several sources of inspiration and help with everything ebook related.
Stefanie with DesignPressUnlimited for my e-cookbook design and formatting.
Amy from Blogging with Amy, who has an wonderful series on writing an eBook.
Sarah Mae, who generously shared her marketing knowledge and experience through her eBook, How to Market and Sell Your eBook.
E-Licious: Must Have Recipes For Every Occasion