Exactly 2 years ago I took pictures of my boys in our backyard.  It was hot and sticky and the boys squinted and I recruited my mom to help.  But I took one of my favorite all time photos of my boys that day.   Awe, they all look so very wittle.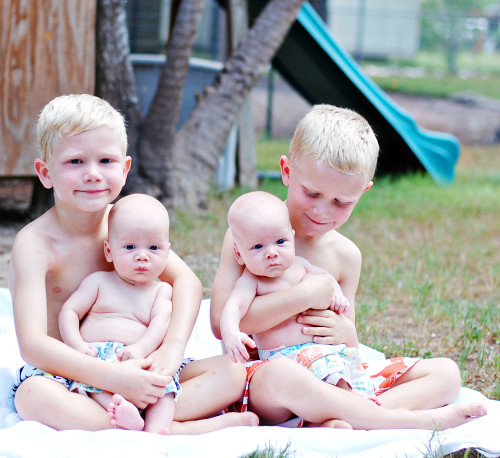 Well 2 years have flown by and this is our last week in our home of almost 10 years.  I am feeling a little emotional about the move, but looking so forward to a much bigger home and 2 bathrooms.  Oh it will be glorious.
So I had to make due with it.

Of course, I think there is even a term for this, photographer's children syndrome, and if it's not a term, it should be.
Seriously those boys.
I tried all my tricks and they just weren't having it.
So, I just sang to myself, let it go, let it go.  I will think this is funny one day.
And I took some photos of my Wy guy.  Love this one of the sprinkler behind him.
He has recently lost both his front teeth and looks so different now.

And look no crying driving the ford.

Ranger, mid lick


and my sweet cricket, I just love that face.
And my big boys, seriously when did this happen.
Oh how I will miss this house and all the memories made here.  But lucky for me I will drive by it everyday and keep all our wonderful neighbors as we are only moving 4 houses down.