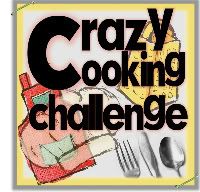 I have completed my first Crazy Cooking Challenge, hosted by Tina at Mom's crazy cooking.  What is the crazy cooking challenge, you ask?  Well, it is a large group of bloggers who are given a cooking assignment, this month's assignment was cheesecake, then we have to find a recipe from another blogger we'd like to try, bake it, and then post about the recipe on our posting day.  Be sure to visit some of the other cheesecake recipes below.
Cheesecake could quite possibly be my most favorite dessert ever.  I just love the creamy, rich, melt in your mouth delicious-ness!  But, since I feel I have the most perfect cheesecake recipe in my E-cookbook,  I wanted to try and find a healthier, lighter, yet still delicious option.
I found it folks!  Greek yogurt is the key.  This recipe comes from Baking Bites, and I only slightly altered the recipe, to add some lemon and macerated strawberries.  The results was a creamy, delicious cheesecake, that you would never know it wasn't fully fat.
Each slice comes in just under 200 calories, which is pretty amazing for cheesecake, but don't take my word for it, try it yourself.
To start lets make the graham cracker crust:
Ingredients: 1 sleeve of graham crackers, 3 tablespoons sugar, 4 tablespoons melted butter.
Add the sugar and graham crackers to a food processor.
Process until fine.
With the processor mixing, slowly drizzle in the melted butter.
Then press, the crust into a 9-inch spring form pan, using the back of a measuring cup to help press up the sides evenly.
Then bake the crust for 10-12 minutes at 350°, set aside to cool completely before adding the filling.
To make the macerated strawberries, slice about 1 cup of strawberries.
Add them a a lidded container, squeeze the juice of half a lemon over them.
and add 3 tablespoons sugar.  Shake well and refrigerate several hours.
Greek Yogurt filling:
8-ounces neufchatel cream cheese, room temperature, 16-ounces Greek-style yogurt, room temperature (I used The Greek Gods Fat free plain yogurt), 1 cup sugar, 4 large eggs, room temperature, 1 tablespoon vanilla extract, pinch salt, zest of one lemon
I love Greek Gods nonfat plain greek yogurt.
To a food processor add the nuefachatel cheese, zest of 1 lemon, sugar, greek yogurt.
Then add the vanilla, and eggs.
Process until very smooth.
Then pour into the cooled graham cracker base.
Place into the oven at 350° with a water dish in the bottom rack, to help keep the cheesecake from cracking.  Bake for 50-60 minutes until cake is set and jiggles only very slightly when tapped.
Yummy.  Then let cool and refrigerate for at least 6 hours or over night.
To serve top sliced cheesecake with macerated strawberries and enjoy without feeling guilty!
Print This Recipe
Greek Yogurt Cheesecake

adapted from Baking Bites
8-oz neufchatel cream cheese, room temperature
16-oz Greek-style yogurt, room temperature (I used The Greek Gods Fat free plain yogurt)
1 cup sugar
4 large eggs, room temperature
1 tbsp vanilla extract
pinch salt
zest of one lemon

Prebake a graham cracker base into a 9-inch springform pan (see recipe below); a 9-inch graham cracker pie crust should work fairly well, too. This cheesecake can also be baked without a crust.
Preheat oven to 350F.
In a food processor, blend cream cheese, yogurt, sugar, eggs, vanilla extract and salt until mixture is very, very smooth.
Pour into prepared pan and bake for about 50-60 minutes, until the cake is set and jiggles only slightly when gently tapped.  Add a dish of water to the bottom rack of the oven to help prevent the cheesecake from cracking.
Cool to room temperature before refrigerating, refrigerate at least 6 hours or overnight before serving.

Graham Cracker Base
1 1/4 cups graham cracker crumbs (1 sleeve)
3 tbsp sugar
4 tbsp butter, melted

Preheat oven to 350F.
Combine all ingredients in food processor until well combined. Press into a 9-inch spring form pan, pressing the crust slightly up the sides using a measuring cup. Bake for 10-12 minutes, until set. Cool completely before filling.

Macerated Strawberries

1 cup sliced fresh strawberries
3 T sugar
1/2 of lemon juice

Add all the ingredients in a lidded container, shake well and refrigerate.

12 servings

Per serving: 196 calories, 24 Carbs, 9 fats, 6 protein, 141 sodium, 1 fiber
Pin It