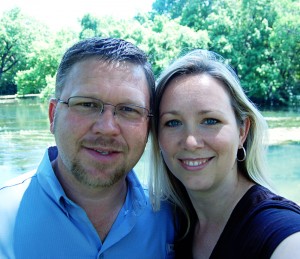 Today is my 30th birthday!  DT is taking me out to eat at a nice restaurant and I am getting a white tattoo!  My thinking is, if I tell everyone I won't chicken out.
If anyone recalls, on my last birthday I did a 30 things before 30 list of which I've failed miserably at some and kicked some butt on others.  Let revisit it, shall we?
Publish 1 recipe I've created.- Killed this one created my E-licious E-cookbook with over 45 published recipes!!
Buy 2 new outfits to wear to 2 new places.- done easily with all the weddings and baby showers I've been too lately.
Buy 3 strangers their morning coffee.- hard to do since I never get coffee out!  I will have to try harder on this one.
Make friendship casserole for 4 friends.- made several for friends that have had babies and for my new niece and brother.
Make 5 new friends.- yes, happy to say, some are close friends now and some are just fb buddies.
Mail 6 hand-written letters.- Not six and not hand written but I have written letters to my friend.
Compliment 7 strangers.- yes ,I try to make this a daily thing, somewhere, anywhere.
Run 8 miles straight.- not 8 miles but last weekend I did complete a 5k

Send 9 of my favorite books to 9 of my favorite people.- I had every intention to do this and yet they sit un-mailed in my office, shame on me.
Pick 10 people who comment (on this post) and send them something.- the same as before they were going to get books!
Take the boys on 11 new adventures.- hmm, let me think 11 NEW, maybe not all new but every time is different: zoo, bay, park, waterpark, cutting rice, swimming lessons, pre-school, pumpkin patch, birthday party at the museum, emergency room visits, and homemade sidewalk chalk.  To name a few things.
Give away 12 hatching eggs.- yes, donated to a teacher for his classroom to hatch.
Send 13 postcards to 13 blog readers.- yes, even if it was just a few days ago.
Tip my waitress $14 above average.- yes, I try to tip well but made this one specifically
Leave 15 nice comments on 15 other blogs.- yes, I comment regularly on other blogs.
Make (at least) 16 cupcakes for a friend.- yes, I made these very cupcakes for my mom, who I consider my best friend!
Enjoy 17 sunsets.- absolutely, I love sunsets!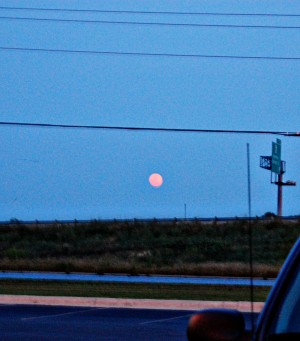 *I realize this is not a sunset but a picture of the moon, but it was so beautiful the night of our 6th wedding anniversary I took this picture.  Turns out the moon was the closest to earth that night also.
Visit 18 new places; restaurants, neighborhoods, cities.- 18 I have to think if it's been that many, maybe not but we've enjoyed Weddings, Pumpkin Beer taste testing, 5k Run, anniversary in San Marcos.
Make a CD of 19 of my favorite songs.-Does Adele count!  I love her.
Plant a garden with 20 different vegetables, herbs, and fruits?- yes, we planted a huge garden again, and we have asparagus, dill, a volunteer gourd, watermelon, tomatoes, tomatillos, squashes, peppers, cucumbers and green beans.
Do 21 push-ups, not the modified version.- Yes, I kill these!!  Hard to do but I can do them full out!
Buy 22 lottery tickets, using lucky number 22.- working on this one.
Make and give 23 egg ornaments for Christmas.- No, sadly again, but this year I will!
Take and develop 24 pictures.- Develop is a loosely based term right? Taken probably thousands of pictures, but developed only about 100.
Make 25 new to me foods.- Absolutely, I am always making new foods and even new to me foods. Check out The Kitchen and my E-licious Cookbook
Take 26 zumba classes.- I am most disappointed about this one.  It's just so hard to go to a class when DT is never home.  But one of these days I will do this and rock zumba!
Clean my closet and give away 27 things.- yes, probably more than 27 things too!
Donate 28 bottles of shampoo/conditioner/paper towels etc to our local blessing cup.- yes, all my couponing days stock ups!
Lose 29 pounds.- Just made it, I have officially lost 29lbs and it feels so great!!
Enjoy a bottle of wine that costs at least $30 dollars.- buying it today and can't wait to enjoy!
Thank you all for being a part of my 30th year, what will it have in store for me only time will tell.  This 30 in 30 list was really fun to complete and strive for. 
What will be on your list?