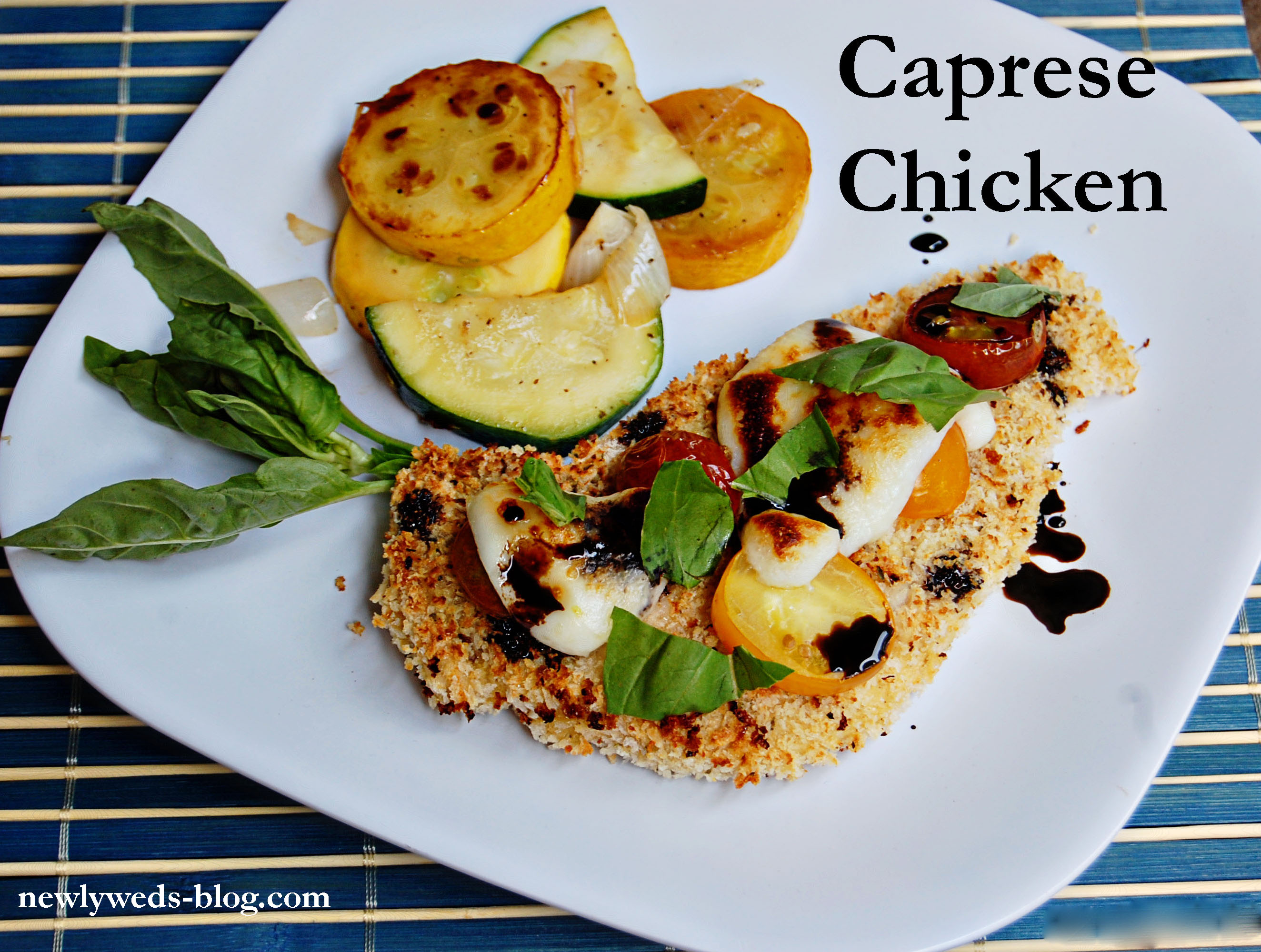 When Lisa posted this recipe on my weekly Recipe Linky I knew I wanted to make it.  So many of my favorite flavors combined together, and at only 300 calories per serving a wonderful healthy and delicious meal.
The flavors of the The panko bread crumbs, make for a delicious crispy bite, and the balsamic reduction adds such a lovely touch.  The tomatoes get slightly cooked and caramelized and the gooey melted cheese, oh my.
We've found a new weekly recipe!!  Thanks Lisa!
2 boneless skinless chicken breast (about 8 oz each), 2 eggs, 1/2 cup flour, 1 1/2 to 2 cups panko bread crumbs, Italian seasoning, 3/4 cup balsamic vinegar, 1 tbsp agave nectar (or sugar), olive oil, cherry tomatoes, cut into slices, 8 oz queso fresco, cut into slices, about 1/3 cup fresh basil, chopped, salt and pepper, to taste
I love this stuff, but if you don't have it or can't find it you could use mozzarella.
To start with the balsamic reduction.  In a small saucepan add the balsamic vinegar and a tablespoon of agave nectar or sugar, put on medium low and let it start to reduce, stirring occasionally.
Cut the chicken breasts in half, length wise.
Then in a large ziplock bag, place the 2 sides and using a mallet, pound out chicken to uniform thickness.
In 3 pie plates set out your breading stations.  Add flour, and salt and pepper to one plate.
Another add 2 eggs, beat well and add salt and pepper.  It's important to flavor each layer.
In the 3rd pie plate add the panko crumbs and about 1 teaspoon of Italian seasonings.
Set your skillet to medium high heat and add a few tablespoons of olive oil.
To start, coat the chicken breasts in the flour,
then dip in the eggs, covering both sides very well.
And lastly in the panko crumbs.  Be sure it is covered.
Then place in the hot skillet, to cook about 3-4 minutes.
Then flip and cook another 3 minutes or so.
Check on the balsamic reduction, stirring occasionally and once it has reduced by half, remove from the heat.
Then line a large baking sheet with foil.  And top each chicken breast with some tomato slices, and cheese slices.
*I used cherry tomatoes because it's what I had on hand.  But large tomato slices would probably work better
Then place under the broiler on high, for a few minutes to melt the cheese.  Watch closely as the broiler can burn the food really fast.
Top with a drizzle of the balsamic reduction and some fresh basil.
Serve with your favorite summer veggies.
And hurry and eat while your sweet little beggars, not so patiently wait for a bite.
Yum!
Print This Recipe
Caprese Chicken

adapted from Lisa's Dinnertime Dish

2 boneless skinless chicken breast (about 8 oz each)
2 eggs
1/2 cup flour
1 1/2 to 2 cups panko bread crumbs
Italian seasoning
3/4 cup balsamic vinegar
1 tbsp agave nectar (or sugar)
olive oil
cherry tomatoes, cut into slices
8 oz queso fresco, cut into slices
about 1/3 cup fresh basil, chopped
salt and pepper, to taste

Put balsamic and agave in a small saucepan over medium low heat. Let reduce down until it has thickened into a syrup.  This will take about 20 minutes.  Cut each chicken breast in half, lengthwise.  Put in a gallon size Ziploc bag or between two sheets of plastic wrap, two at a time.  With a mallet or small fry pan, pound chicken out until it is a uniform thickness.

Take three shallow bowls or pie plates.  Add eggs plus salt and pepper in one, and the flour plus salt and pepper  and breadcrumbs plus Italian seasonings in the last one.  Dip the chicken in the flour first, then the eggs and finally the breadcrumbs, making sure each piece is well coated with the breadcrumbs.  Set aside on a plate.

Heat about 3 tbsp olive oil (enough to coat the bottom of the pan) in a large skillet over medium high heat.  Sauté the chicken for 3-4 minutes per side, until golden brown.  It cooks up quickly because the chicken is so thin.

Put cooked chicken on a cookie sheet.  Top each piece of chicken with slices of tomato and  slices of cheese.  Put under a broiler on high until cheese is melted and starting to brown.  Watch carefully, it goes quickly!

Once cheese is melted, drizzle each chicken breast with the balsamic reduction.  Sprinkle with the chopped basil, salt and pepper.  Serve immediately.

Serves  4

Per Serving: 298 calories, 17 carbs, 12 fat,  29 protein, 427 sodium 1 fiber
I am happy to list this post @
Pin It