*Edited to Add*
I was asked by several people for some updated photos. And I thought since I am about halfway there in my weight loss journey I would post my 25lbs weight loss pictures.
The pictures on the left are from day 1 of my weight loss journey February 14th, 2012.  The pictures on the right are of this morning May 26th, 2012.
The Advocare Cleanse is over.  Woo,  I feel good, lighter and healthier.  And I lost a grand total of 4lbs in 10 days, I am really really happy with that number.  Especially when normally it would have taken me 4 weeks to lose 4 lbs. I ate for the most part very well, though I did have a cheat day and ate some chips, cake and beer.  It happens.    This cleanse is really easy and if anyone is looking for a quick jumpstart to healthy eating, feeling better and dropping a few pounds I highly recommend the Advocare cleanse, it's inexpensive too.
The best part is those pounds are gone, they aren't water weight and I am not going to gain them back.  I know this for a fact because the first time I did the cleanse and challenge I lost 10lbs in 10 days and I have kept that weight off and in fact lost another 15lbs.
So my grand total of weight loss to date is now 26lbs.
I am feeling really good, most of my clothes are practically falling off of me, so time for some new ones in smaller sizes, awesome!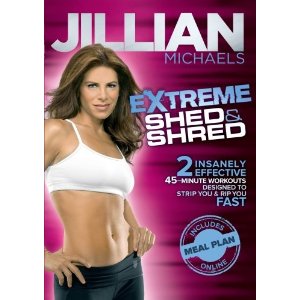 Jillian Michaels Extreme Shed & Shred
I went crazy one day this week and did both level 1 and level 2 back to back, like Jillian recommends.  My Heart Rate Monitor
said I burned 787 calories!!  It was awesomely hard and 77 minutes long.  The rest of the week I just did level 2, but next week my plan is to do both levels back to back all week, yikes!!  I am still questioning myself of this one.  The crazy thing is I am starting to see my muscles emerging under the blubber, and I feel so strong!  I love this strong feeling.
What workouts do you do?   Anyone want to join my facebook workout group, I'd love to support and encourage each other?
Pin It