These ripped in 30 videos are no joke people.  Level 3 is especially intense.  Moves like Duck walk, jumping squats, jumping lunges, squat jacks, tricep dips, and more and more.  This level goes very quickly, but not before your muscles are burning it up.  Burn means change and change is good, so I try to look at it like that as my thighs feel like they are going to explode.
As far as change, I can really see it and feel it.  My clothes are feeling loose and I can wear things I haven't worn for 2 years!  I am feeling tighter and smaller.  Stronger and so much more energy.  Little things like being able to wear my wedding ring again.  And sitting without covering up my belly pouch.  (don't get me wrong I still have one, but it's much much much smaller!)  I am consistently losing about 1 lb a week.
I love this picture of 1lb of fat.  I've lost 19 of those pounds!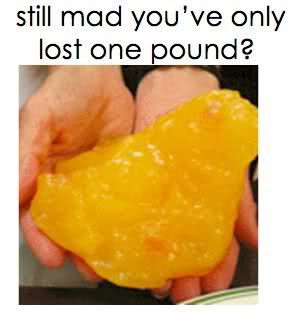 I think I am gaining muscles, because I am starting to see them. I am also losing lots of inches!  That is so very encouraging.  Seeing the weight dropping and having so much support from you all is wonderful.  I highly suggest to anyone who really wants to lose weight to seek support.  You have to have support.  And not just from your immediate family, but others going through the same thing as you, sometimes you need to complain, moan, groan, and want to give up.  But if you have someone to gripe to and truly understands, it helps and you can get through it.
Next week I start level 4, and I am not looking forward to it, if level 3 was this hard, I can only imagine, say a little prayer for me. 

If you're not familiar with the Jillian Michael's 30 day shred video, and to read more about before and afters, experience here.