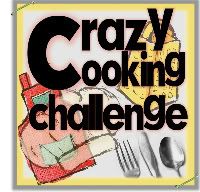 I have completed my first Crazy Cooking Challenge, hosted by Tina at Mom's crazy cooking.  What is the crazy cooking challenge you ask?  Well, it is a large group of bloggers who are given a cooking assignment, this month's assignment was Blueberry Muffins, then we have to find a recipe from another blogger we'd like to try, bake it, and then post about the recipe on our posting day.  Be sure to visit some of the other blueberry muffin recipes below.b
As I said, this month's theme is Blueberry Muffins, and I choose these healthier muffins from Edesia's Notebook.  Edesia is a blogger friend of mine that also does the CCC, so when I saw her recipe for these muffins, I knew they were meant for me.
I love the muffins, they are healthier, full of flavor, and so good, you'd never know how good for you they are.  Each muffin comes in at only 148 calories a piece, which is a steal for muffins.
Ingredients: 1¼ cups quick-cooking oats, 3/4 cup white whole wheat flour, 2/3 cup light brown sugar, 1½ teaspoon ground cinnamon, ¾ teaspoon baking powder, ½ teaspoon baking soda, ½ teaspoon salt, 1 cup milk (1%),                  2 tablespoons vegetable oil, zest of half a lemon, 2 eggs, 1½ cups fresh or frozen blueberries
Fresh blueberries are a must, but if you can't get them, frozen will do just fine.
In a mixing bowl, add the dry ingredients and mix well.
In a 2 cup measuring cup, measure milk and oil.

2 eggs,
and zest from the lemon.
Mix together very well with a fork.
Then add the wet and dry ingredients together.
Mix until just incorporated, you don't want to over mix.
then fold in the blueberries.
and spoon 1/4 cup into each muffin tin that has been sprayed well with cooking spray.
Add a few berries on top to look pretty.
And bake at 400° for 18 minutes.
Serve warm with a big glass of milk.
Print This RecipeHealthier Blueberry Oatmeal Muffins

slightly adapted from Edesia's Notebook

Ingredients:
1¼ cups quick-cooking oats
3/4  cups white whole wheat flour
⅔ cup light brown sugar
1½ tsp ground cinnamon
¾ tsp baking powder
½ tsp baking soda
½ tsp salt
1 cup milk (1%)
2 tbsp vegetable oil
Zest of half a lemon
2 eggs
1½ cups fresh or frozen blueberries

Directions:
Preheat oven to 400°.  Place oats, flour, brown sugar, cinnamon, baking powder, baking soda, and salt in a large bowl, mix well.
Combine milk, oil, lemon zest, and eggs in a measuring cup.  Add to flour mixture; stir until just moist, don't over mix.
Gently fold blueberries into batter. Spoon batter into 12 muffin cups coated with cooking spray; add more berries on top if necessary.
Bake at for 18 minutes or until muffins spring back when touched lightly in center. Remove from pans immediately; place on a wire rack to cool.
Makes 12 muffins.  148 calories per muffin.
Pin It