Welcome to Holiday Treats Week on Newlyweds.  I will be posting a new treat each day this week, and I hope you will share some of your favorite treats, too. Link up below, or even share your recipes in the comments section.
These delightful cookies come from my Great Grandma Thompson.  Though they don't scream being the usual Christmas Treat, Grandma always made them at Christmas time.  My Mom has wonderful memories of Grandma's cookies, so I was happy to make this recipe and see if I could recreate her magic.  My Memaw even found Grandma's handwritten recipe.  What a gem!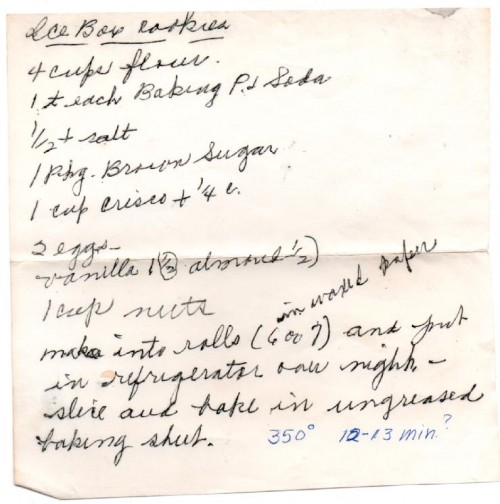 Now these cookies look like a simple basic recipe, and really they are, but it's all about the baking of them that make them unique, you roll them into logs and slice!  So they are sturdier crisp cookie.  They have a wonderful sweet flavor with a hint of almond and crunch of pecans.  I baked these cookies at 11 a.m. and by later that day they were all gone!!!  Note to self, don't leave cookies on the counter with 4 year olds and daddies around.
I will continue Grandma's tradition and make these every Christmas, too!
Ingredients: 4 cups flour; 1 teaspoon baking powder; 1 teaspoon baking soda; 1/2 teaspoon salt; 2-1/3 cups brown sugar; 1-1/4 cups crisco;  2 eggs; 1-1/2 teaspoon vanilla extract; 1/2 teaspoon almond extract; 1 cup pecans, chopped
In a mixer, cream Crisco and brown sugar.
Add 1 egg at a time,
mixing in between, and scraping the bowl.
Mix in both vanilla and almond extract to the creamed sugar.
Add dry ingredients: flour, salt, baking powder, and baking soda.  Mix well.
In 3 batches add the flour, mixing in between additions.
If batter looks too crumbly add 1-2 tablespoons of milk.
Then mix in pecans.
Lay out a sheet of cling wrap or parchment paper with about 1 cup of dough.
Fold up the sides and roll tightly into a even log.
You  should have 6-7 logs depending on the size.  Refrigerate them overnight.
The next day remove them from the cling wrap and slice into quarter inch slices.
Place on an ungreased baking sheet and bake at 350° for 13-14 minutes.
And prepare to dig in, these are simply wonderful delicious cookies.
You might want to share some, they won't last long.
They tend to be slightly addictive.
I warned you!
Ice Box Cookies

4 cups flour
1 teaspoon baking powder
1 teaspoon baking soda
1/2 teaspoon salt
2 1/3 cups brown sugar
1 1/4 cups crisco
2 eggs
1 1/2 teaspoon vanilla extract
1/2 teaspoon almond extract
1 cup pecans, chopped

Cream crisco and sugar, add eggs 1 at a time mixing in between, add extracts.  Mix dry ingredients, add dry ingredients to wet in 3 batches, batter will be dry, if too dry and crumbly add 1-2 tablespoons of milk.  Fold in nuts.

In parchment or cling wrap roll into 6-7 logs and refrigerate overnight.  Slice and bake on ungreased baking sheet @ 350 for 13-14 minutes.
Please join in on the Holiday Treat week. If you have a recipe you'd like to share please share with Linky Tools, I will have it up all week so feel free to add as many recipes as you would like. If you don't have a blog please leave the recipe in the comments section. I love new recipes. Can't wait to see what you've been cooking up. lease also be sure to link back here so others can join in too.