This egg recall really has me thinking about raising chickens.  Initially, it started for the eggs, oh the glorious beautiful, golden yolk eggs.  I was spoiled on these truly free range eggs from my in-laws, and hadn't bought a egg in months.  Until one day I ran out and had to buy pale, no flavor, store bought eggs, mind you these were labeled, "free range", organic eggs.  They just didn't compare.  The shells were thin, the whites were runny and the yolks were so light yellow.
Well I did a little investigating on "free range" egg labels, turns out they aren't free range at all, except they get to walk on a dirt floor for "get this" 5 minutes a day.  No fresh grass, no bugs, no watermelon, no love.  Ok I digress.
I do understand that in order to feed all the hungry people eggs they need these massive egg farms, but I just wish they wouldn't try to mislead people into thinking they are buying more than eggs from chickens in cramped conditions, that never see the daylight, touch grass or eat bugs.
I understand that not everyone has the capability, time, or want to, to raise a few backyard chickens, but in my dream world at least half of us would.
To support my case here are a few details about truly free range eggs compared to store bought eggs:
Mother Earth News recently offered results of documented studies which test compared free range (pastured) eggs to factory produced USDA eggs. When compared to factory grown eggs, free range eggs have, on average:
• 1/3 less cholesterol
• 1/4 less saturated fat
• 2/3 more vitamin A
• 2 times more omega-3 fatty acids
• 3 times more vitamin E
• 7 times more beta carotene
Eggs produced by pasture grazed hens have less fat and far less cholesterol, more Omega-3 fatty acids (vital for optimal heart and brain function), and a very high level of beta-carotene (a form of vitamin A). My chickens are not fed chemicals or hormones; they simply live as nature intended enjoying a fresh, natural, free range diet . Our chickens enjoy a wonderful, happy life so they can produce the most nutritious eggs.
Here's a little chart that puts it so very nicely: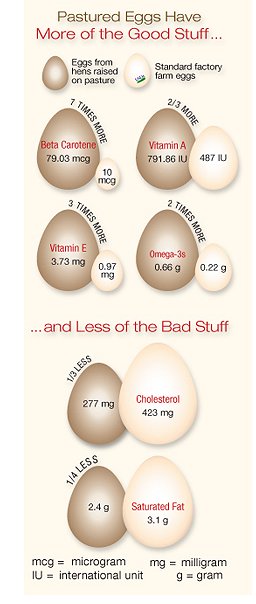 All of this to not mention the pure fun, hilarity and joy I get from my chickens everyday.
They are curious, full of personality little things by nature.  They love to explore, check everything out and always on the quest for a snack.
My boys love playing with them and picking their eggs each day.  They are more than just egg laying machines, they are our pets.
I now have 14 egg layers, and gather at least 10+ eggs a day, so if you are in need of any eggs, just let me know, I'll hook you up, so you can taste the difference yourself.