I'm back, well, we're back, you know, the Meet the Newlyweds Series.  After a short hiatus, its back in full force with some really great newlyweds lined up.
To start off the break it's Matthew and Rebekah.  Rebekah blogs at County Mouse Tales and her blog is just as cute as it sounds.  She has been in the blogging world for almost 3 years (which is a life time in blogging years).  Her blog has seen her and Matthew through their dating, marriage and birth of their precious little boy.  She even give tips for us coffee addicts, and plenty of her hilarious accounts of daily life.  Please be sure to check it out, now on to the interview.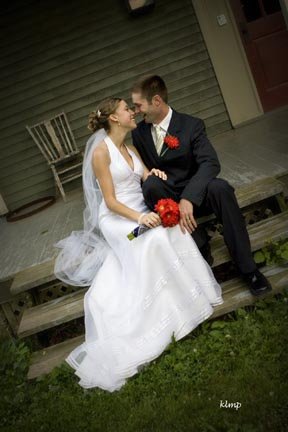 Wedding date: July 5, 2008
Blog (s): www.countrymousetales.com
How did you meet? I spent the summer of 2004 working in the Dominican Republic, building portable chapels.  He came down to help work on a project for ten days in the end of June.  We bonded over punch-bug in the sweaty bus, and although I don't remember it he tells me I punched him pretty hard.  I guess that was the beginning .  He went home, but we kept in touch throughout the summer.  It took another 3 years of friendship, but one weekend we made plans to see a Mets game together, he kissed me that night and there was never a second thought.  We were engaged four months later.  It was completely natural that we would be together.
When did you know he was the one? I think it was a culmination of all the years we had known each other.  I knew the values that he had, I knew the heart that he had, and when that all took a romantic turn, it made more sense than anything I had done up until that point.  I never felt more confident in anything than when he told me he loved me.
What is one of your favorite things to do together? We like to go to the bookstore, grab a coffee, and wander the bookshelves together.
What is something new you learned about your husband after you were married? He can't match pants to shoes for the life of him! I don't know if I just didn't notice that before, but I'm constantly having to say "Honey, do you really want to wear those shoes?"
What do you do to stay connected during everyday stresses of life? I try to constantly be an encouragement to him, and he does the same for me.  It may sound corny, but sometimes you really do need to hear that someone believes in you.
What is your best piece of marriage advice? I think that one of the biggest problems for couples is that, throughout the daily grind, we forget to let our partner know that we appreciate all that they do.  I try to remember to thank Matthew, and to let him know that I appreciate the work he does, whether it be thanking him for working so hard to support us, or thanking him for remembering to rinse his cup before he puts it in the sink.  I know I feel validated when he thanks me for something, even if it is something that is my responsibility, it is nice to know that your partner noticed.
What is your favorite quirk about your husband? Very few things make him as happy as a glass of chocolate milk and a plate of Oreo cookies.
What is something special you do just for your husband? When we have a rare 'date night', I wear the same perfume I wore for our entire honeymoon, to remind him of our special time together in Spain.
Tell us something about yourself I am a 25 year old Pennsylvania woman, new mother to Jack, who is now almost six months old.  I started blogging over two years ago while I was still planning my wedding, and have seen so many changes since then…from marriage to motherhood to trying to learn my way around the kitchen!
I am still in search of couples so please If you are interested in being a Meet the Newlyweds featured couple, leave a comment and/or send me a message and I will get in touch with you