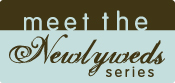 I am almost completely out of Newlyweds Couples for my Meet the Newlyweds Feature.  And some of my readers and me are having Newlywed withdrawals.
If you are a Newlywed (under 5 years married) or know of a Newlywed who blogs please let me know.
Just simply leave me a comment, and/or a email. And I will send you the info.  Can't wait to hear from you.
Thanks so much.