Let's Meet B and Jessika newlyweds who will be celebrating their first anniversary in a month.  Jessika blogs at Life is Good, we've become blogging buddies over the past year or so.  She and I both got chickens around the same time and are both constantly adding to our collection and blogging about it.  She is also the queen of garden projects, from building a chicken coop to planting and redoing a huge backyard, this gal and I sure B are a busy bunch.  Be sure to check them out.  Now on to the interview.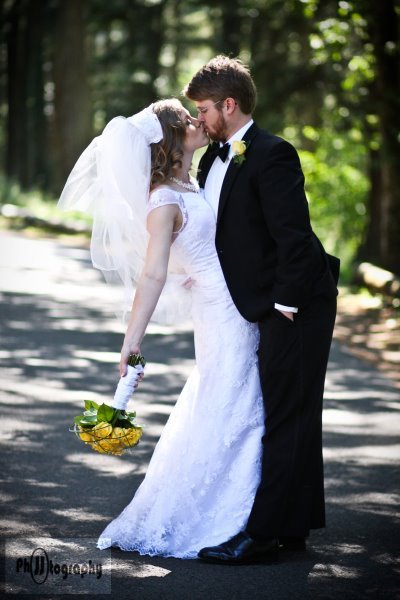 Wedding date: June 27, 2009
Blog (s): oregonkaisers.blogspot.com
How did you meet?
Please don't stop reading this post when you read this part…. we met in law school!  B and I have one of those relationships where we kinda knew of each other for a while before we actually knew each other. We actually have a photo of each other, where we were posing with mutual friends, but I did not know who this guy (turns out to be B) was in the one photo! My first actual impressions of him were not good; I thought he was a snoot. He thought I was a brown-noser. When we first were dating, our nicknames for each other were "Ms. Prim & Proper" and "Mr. Bullishly Boorish." No joke. Love, huh? My very first memory of B is him sitting down in the law school commons. I had been writing an email, but a friend of mine was sort of hanging around and chatting off-handedly with me. B, whom I did not really know well, sat down and had the gall to tell me that I shouldn't be writing an email while talking to a friend. I thought "Who the heck does this guy thing he is?!" But that man, that man with the gumption to make pointed remarks to a stranger and put his feet on top the desk in the back of the classroom while I sat up front and raised my hand politely… I learned how sweet and wonderful he was, and, well, I married him less than two years after that computer/friend incident.
When did you know he was the one?
Soon after we began dating, we had to make some big decisions: Where we would go to begin our careers. Totally threw two newly-dating people into a vast pit of life-altering decisions that NEED.TO.BE.MADE.ASAP, and decisions that really didn't care if it thrust two people into discussing "serious" topics. With various tests required by each state, the hoops to jump through are large, and you really don't want to do them multiple times. Though I'm from California, I thought I'd end up in Oregon (LOVE it here). I realized HE WAS THE ONE when I asked if he wanted US to move back to Ohio (that's where he's from). Then we realized it: There was no double-guessing it, we both wanted to be in same state, with EACH OTHER. I was shocked to think I'd be willing to go to a strange state… for a MAN, but it was completely natural and offered up without hesitation. He offered up California without hesitation too. Luckily, we both agreed on Oregon. We were sort of thrust into the big-decision-department rather rapidly, but we were both so heads-over-heels crazy nuts insane for each other (still are) that it wasn't really that big of a decision, relationship-wise, after all.
What is one of your favorite things to do together?
Walk. We live in a town perfect for walking. I've been so busy with gardening and the house recently that we haven't done this as much, and B pointed this out to me recently, so we're trying to get back into that swing. It's calming, we can chatter about various things. I like walking by a house and commenting on something I like, and so does B. We've learned a lot about each other this way. And now, we have the Madster, and she gets to go on walks with us (though she goes for hamming it up with other people, not for our attention).
What is something new you learned about your husband after you were married?
We both hate to put clothes away. This is a problem, as we both wear nice, business attire to work. Then, when we come home and change, it gets put everywhere EXCEPT for back on the hangar. Especially since we have furry beasts pets, this results in fuzzy clothing (since it's reachable by the pet monsters when clothing is not hanging up) and much lint roller usage. It's something we're trying to get better on, but for some reason, the LAST thing we want to do after work is be all responsible and hang up clothing. Ridiculous, I know.
What do you do to stay connected during everyday stresses of life?
We email like crazy. I'm somewhat reachable during the day, but B, generally, isn't. His work takes him places where he can't take his cell phone, and he's also in court a lot. Our schedules are often hard to coordinate.  So we walk (see above) and email. Sometimes I get a bit carried away, and poor B will check his email to find about 20 messages from me, ranging from "the dog tore up your shoe" to "I love you" to "what are your thoughts on a new freezer?," but it's a system that works for us.
It's a system that's worked for us this first year of marriage, and we've had rough seas to traverse, I tell ya. B moved three times, and I moved twice. His job became permanent… two days after I lost mine. I have a job now, but it's not a permanent, salaried position. We had jobs where we were driving 120-mile-commutes (each), to now where we drive (or bike) 2 miles. We've been stuck moving in snowstorms, heat waves, and record cold snaps. We've sold off many possessions and organized (and paid) for our wedding. Emails work, and they help us work. We're ready for a few years of still water after this past crazy year of storms.
What is your best piece of marriage advice?
PATIENCE. Sometimes, the stresses of everyday life are so overwhelming. The littlest thing can make B mad or me upset. I, particularly, internalize problems and so small things on other fronts can seem enormous. Problems in a marriage definitely need to be addressed, but knee-jerk reacting is not the way to go. So, I try to not react immediately to small things, and, instead, think about how big they actually are. Generally, I'll realize it's not a problem with B, it's a problem with work or someone else. This has kept us from making mountains out of molehills.
A good friend also told me: "If you think your spouse is doing something wrong, he/she isn't. It's just his/her way of doing something. You automatically assuming it's wrong is itself a wrong judgment." Again, patience.

And that patience has helped us to love each other even more.
What is your favorite quirk about your husband?
He's a total goof. He has the most roundabout ways of doing some things, and it makes me laugh and shake my head (see my "Chicken in a bucket" post). My friends tell me that I could totally write a comic strip on the ongoings of our lives. I love it when my husband lets his guard down and is a goofball, whether it be talking to the dog and analyzing the fluffiness of her behind, or him imitating me, or him just laughing his awesome laugh.
What is something special you do just for your husband?
I try to keep the house in order. Try. And I'm trying to make the backyard a place where he (and I) can relax this summer. His job is more stressful than mine, so my (small) contribution is to make it so he has less to hassle with on the home front. I'm trying to slowly experiment with different recipes. I love to cook, so it's all about finding recipes we BOTH enjoy. Don't get me wrong, we both have our "chores" we do around the house, but on the typical weekday, I like to try to make life as easygoing as possible after a long day of work for B.
Tell us something about yourself.
I am addicted to projects. This is problematic. My brain synapses fire from "Ooh, that's a neat concept" to "I bet that adaptation would look neat" to "I bet I could do that type of project" WAYYY too quickly. My poor husband. I swear his eyes are going to stick in the back of his head from rolling the instant he hears the words "Hey B, so I was thinking…" It's my way of learning, and I have SO much fun doing it. Unfortunately, it often a) fills our house with clutter, and/or b) fills our house with mud, and most definitely: c) drags my begrudgingly accompanying husband with me. I try to eliminate things when I don't need them anymore. This part is necessary when you live in a teeny cottage. I own a dehydrator, 17 chickens, a sewing machine, large "craft boxes," and "manage" an almost-quarter-acre garden. Oh, and have a day job. What does B think of this? He just pats me on the back and states that life together is never boring. And I really hope it never will be.

I am running out of couples so please If you are interested in being a Meet the Newlyweds featured couple, leave a comment and/or send me a message and I will get in touch with you