Meet the cute couple Dustin and Krysten.  Krysten is quite the busy writer.  She writes for The Examiner, just created a new blog The Wife Diaries and also blogs about her lovely life at After 'I Do'.  What a busy blogging gal!    Her topics vary from being in love to book reviews.  She also has a really neat Meme called Where I live Wednesday, she interviews a fellow blogger about where they live (cool places like Cancun and Hollywood), it's like your own personal tour guide.  Be sure to check her out.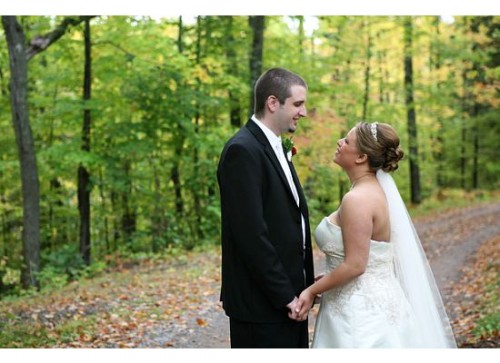 Wedding date: 09/27/08
Blog (s): After 'I Do'
How did you meet?: We actually worked together at Perkins.  He was the service leader when I started there as a hostess.  We became fast friends and I loved that he could make me laugh so easily.
When did you know he was the one?: I think I knew way before he did.  We just fit together, we had so much in common.  I guess you could say I knew for sure the weekend I brought him to my parents' house for the weekend.  My parents loved him!  I could even leave him alone with my dad and not have to worry about their conversation.  Everything was just easy and I loved that.
What is one of your favorite things to do together?: We LOVE Minnesota Twins baseball.  We've been to quite a few games and we watch them on TV all the time.  We also like to have movie marathons and we love going to my parents' house and hanging out on the lake they live on.
What is something new you learned about your husband after you were married?: I had no idea what a family man he was.  We'd discussed kids, obviously, but I love hearing him say, "I can't wait till we have kids and start our own traditions with them."  It's so fun to envision the family we'll one day have.
What do you do to stay connected during everyday stresses of life?: We text pretty much all throughout the day.  I know that if there's something going on and he's at work I can still text him and reach him.  It gives us both peace of mind.
What is your best piece of marriage advice?: Communication is key.  I find that just talking things out with Dustin makes even the most stressful of situations a little bit better.  Not to mention that when you talk about things you're able to lay it all out on the table, which is how a good marriage, to me, should be.
What is your favorite quirk about your husband?: He loves to explain things.  He does this most often when he's explaining something about computers.  He'll go so in depth about it and you can tell he really enjoys what he's talking about.
What is something special you do just for your husband?: He has a certain brand of gummi bears that he just loves.  If I see them at the grocery store or Target I make sure to buy a bag for him because I know it'll make him smile.
Tell us something about yourself: I love to write.  Not only do I have my blog, which I update pretty much every day, but I also write for the Milwaukee Examiner as well as working on short stories and a novel.  I've loved to write pretty much all my life and I hope to one day make a career out of it.  But even if I can't do that I'll always have my blogging which pretty much always puts a smile on my face.
I am running out of couples so please If you are interested in being a Meet the Newlyweds featured couple, leave a comment and/or send me a message and I will get in touch with you.