Meet the Newlyweds Sharon and "Nature Boy" as she lovely refers to her husband on her blog Good, True and Beautiful. Sharon has recently quit a high powered job in the corporate world to be a Stay at Home Mom to her cutie pie son and I can so relate to this post. She also has fabulous tips on saving money and  living simply.  She loves to write about Nature Boy and how they fall in love again. I just love her witty writing and I am sure you will too.  Be sure to check it out.  Now on to the interview.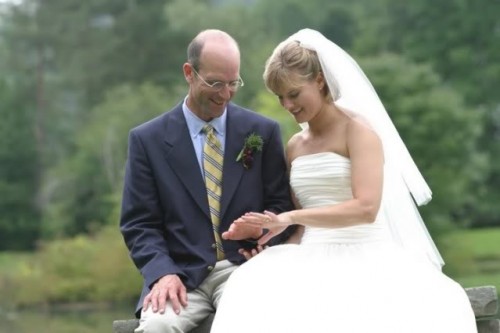 Wedding date: August 14, 2004
Blog (s): www.goodtrueandbeautiful.com
How did you meet? We went to the same college, but not at the same time.  Fortunately we had some mutual friends who set us up.  The only problem was that he was living in Northern California and I was living in New Jersey!  Every Sunday for about four months he would call me to chat…  Persistence paid off!
When did you know he was the one? The first time I actually saw him in person.  We had been talking on the phone and emailing for almost four months, and I just didn't think it was a relationship that was going anywhere.  But the first thought that crossed my mind when I actually saw him was "OH MY GOSH, where have you been?  I've been waiting for you."  Freaked me out actually.
What is one of your favorite things to do together? We LOVE to go on walks.  We have some of our best conversations when we're out walking!  Of course, now that we have a toddler being with him is pretty awesome too!
What is something new you learned about your husband after you were married? That he thought I was going to iron his boxers
What do you do to stay connected during everyday stresses of life? We sit down for dinner almost every night – it's such a wonderful time of sharing, decompressing, and catching up.  I highly recommend it!
What is your best piece of marriage advice? Read Matthew 7 in the Bible – the LOG in my eye is a lot bigger than the speck in his!  So when I'm angry about something I try to remember that what I'm doing is even worse.  Gets us to the apologizing stage a lot faster!
What is your favorite quirk about your husband? He's absolutely brilliant, one of the smartest men I've ever met…  Yet he always loses his cell phone.  Not quite sure how that happens!?
What is something special you do just for your husband? I iron his boxers (see above)
Tell us something about yourself. I'm a full time mom to our Little Guy.  I love photography, writing and having friends over for dinner.  And while we've been married for over five years, I still feel like we're just getting started!!
If you are interested in being a Meet the Newlyweds featured couple, please leave a comment and/or send me a message and I will get in touch with you.