I stumbled upon a homemade play dough recipe in a children's activity book the other day and I thought lets give it a shot.  Being the good new Stay at Home Mom that I am (ha ha) I try to have at least one activity each day for the boys and I thought this one would be perfect and once you make the play dough it stays good indefinitely (now that's my kind of recipe).
It calls for just a few ingredients and it non-toxic of course.  Something I worry about since my boys love putting everything in their mouths.
So first let me show you how to make it, step by step, because really it's not hard at all, but I took pictures and umm I took pictures, so here they are.
Ingredients: 1 cup flour, 1/2 cup salt, 1 T oil, 1 cup water, 2 T cream of tartar, food coloring
Start by mixing all the ingredients in a medium sized pot over medium heat
Continue stirring
until
the mixture forms a ball
Then remove from the heat and knead until smooth
then I cut it in half to make two colors (blue and green)
then I dropped a few green drops of food coloring
and kneaded until color is incorporated
repeated with blue
I set the boys up in their high chairs and each gave them a piece of play dough
At first Little H wasn't too sure
But Little W dug right in
Little H kept trying to give it back to me
or to his brother
But then I whipped out some utensils, and he figured he liked it
They played and played
Gotta love the tongue action!  Little H does this when he is concentrating
Then I made them little bracelets Little W loved his
but Little H didn't like it too much
So all in all the play dough was lots of fun, but best of it, it didn't make any mess at all and super easy to clean up.  So I will highly recommend making some fun play dough for your little ones.  I think next time I will get out some cookie cutters!
What are some of your favorite activities with your children?
This post is listed @
Kelli's "Show and Tell Friday",
Feels like Home, "Graces Kitchen"
Canada Girl, "Show and Tell Friday",
and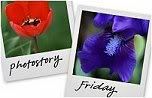 Better in Bulk "Give me your best shot"
I Blame My Mother "Kid Friendly Friday"
The Inspired Room "Its a beautiful Life Friday"