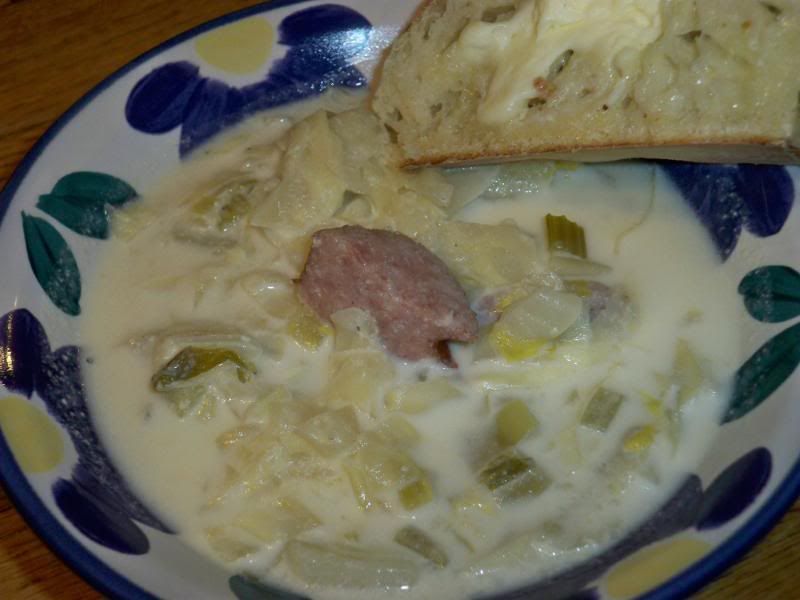 My stomach has found a new lover, ok that sounds weird but I am in love.  With cabbage soup your thinking? I know it sounds so strange but this soup is so very good.  I promise you can't just eat one bowl, you will wake up  in the morning thinking could I eat it for breakfast that's just how very good and addicting it is.  The soup is basic, has few ingredients but combined all together simply put, GOOD!
My Mom and I made this before we moved back in our home, and I kid you not while moving all day Friday, I ate one bowl around 10:30, 2 more at lunch time, and snuck a 4th bowl around 3:30. Is it bad to admit that? But  I just couldn't resist the lovely, creamy, mouth watering soup.
So now I know your seriously thinking about making this.  I just know Cabbage soup sounds like the bomb, and all. I promise you won't regret making this.
Ingredients: 1 small head of cabbage, 4-5 stalks celery, 1 onion, 4-5 potatoes, 32 oz chicken broth, 2 T brown sugar, 1 link of sausage, 1 T salt, 1/4 tsp pepper, 1 tsp caraway seeds, 3 cups milk and 1-2 cups heavy cream.
This makes a large amount of soup but you could easily half the recipe.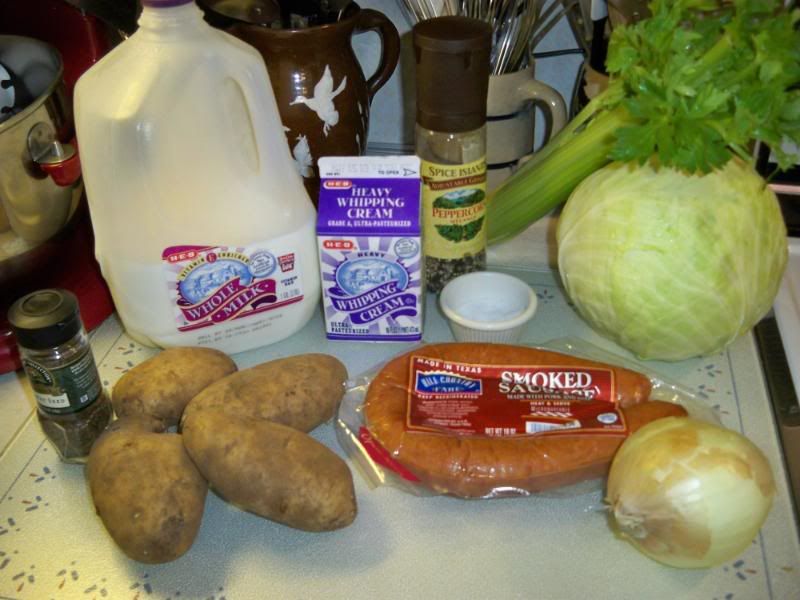 Chop celery, onions, and potatoes
Add to large stock pot along with 32 oz chicken broth- cook on till boiling then reduce to simmer until for about 15 minutes
While its cooking, chop cabbage and sausage (I used the pre cooked kind) But if your using raw, add it
Add sausage, and cabbage
add 1 T Salt and 3 cups milk
2 T brown sugar, 1 tsp caraway seeds, and 1/4 tsp pepper and cook another 25 minutes
then add 1-2 cups heavy cream, depending on the thickness you desire
stir well and serve
Enjoy with crusty bread!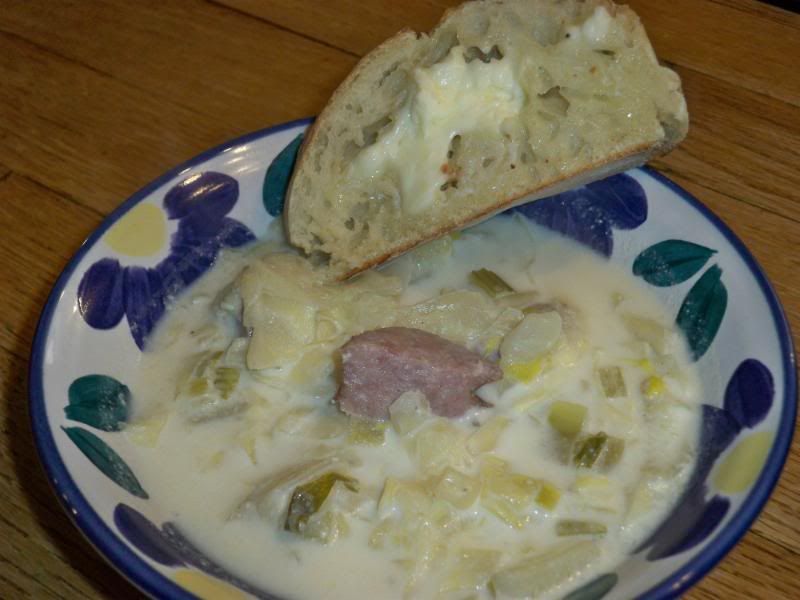 Print This Recipe

Hearty Cabbage Soup

Ingredients:
1 lb Sausage
1 chopped onion
4-5 celery stalks
4-5 diced potatoes
32 oz chicken broth
3 cups milk
1 small head of cabbage
1 T salt
1/4 teaspoon pepper
2 T brown sugar
1 teaspoon caraway seed
1-2 cups heavy cream

Directions:

Add onion, celery, potato and chicken broth to large stock pot.
Bring to a boil.
Cut sausage into 1/4-inch slices; place in 4 quart kettle.
Reduce heat; simmer, covered, for 15 minutes.
Add milk, cabbage, salt, pepper, brown sugar and caraway seed; return to a boil.
Reduce heat; simmer, covered, for 25 minutes longer.
Stir in cream. Serve hot.
I am happy to list this post @
Eat at Home, "Ingredient spotlight"