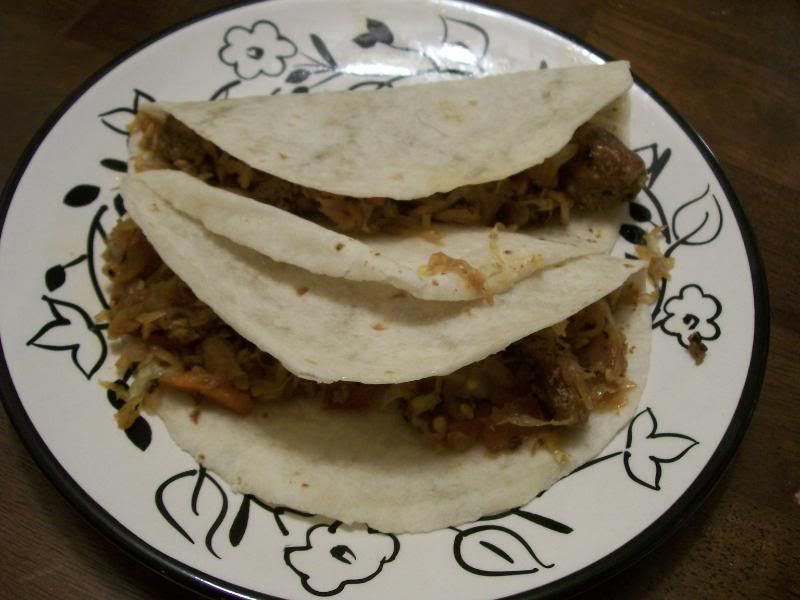 This recipe is featured in my E-licious E-cookbook, stop by to see more details about the e-book and over 45 yummy recipes.
One of my favorite very flavorful taco recipe's is this one Thai Turkey Tacos, its a delight to the senses. So many different Asian flavors combined its amazing and so easy to make.  Seriously the hardest part is grating the ginger.  But I highly recommend using fresh ginger.  Even if you have never cooked or think you won't like the flavor please (pretty please) try it.  The fresh ginger makes the dish.  I also love this recipe because its so fast!  Literally takes maybe 15 minutes tops, absolute tops.
Ingredients:
1 lb ground turkey, 1 bag coleslaw mix, 1 onion, 2 limes, 2 T grated ginger, 2 cloves garlic, 2 tsp sesame oil, 6 T soy sauce, 4 T honey, 1 tsp crushed red pepper, 1 T cumin , 1 pk flour tortillas
Brown meat and add black pepper
Chop garlic, ginger, and onion
add Cole slaw and chopped veggies, and let cook till soften around 2-3 minutes
While veggies are cooking lets make the fabulous sauce
Mix sesame oil, soy sauce, lemon juice, cumin
Honey, and red pepper flakes mix well
Pour over meat mixture and let cook for about 1 minute and serve with warm tortillas and fresh cilantro
Enjoy!! SP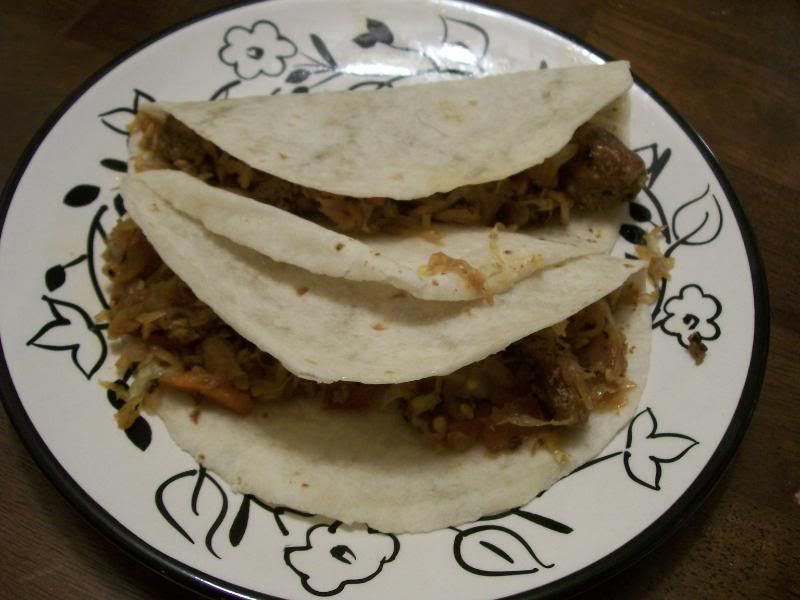 Print This RecipeThai Turkey Tacos

1 lb. ground turkey

2 T grated ginger or ¼ tsp dry ginger (Fresh make a HUGE difference)

2 garlic cloves, peeled and crushed

1 small onion, thinly sliced

1 pk coleslaw mix with carrots (16oz)

Cilantro for garnish

Thai Cooking Sauce

Combine:

2 tsp sesame oil

6 Tablespoons of soy sauce

4 Tablespoons of lime juice

2 Tablespoon of honey

1 tsp of crushed red pepper

1 Tablespoons of ground coriander or Cumin

Heat in a large nonstick skillet over high heat. Add turkey; cook, crumble and stir until meat is no longer pink, about 3-4 minutes.  Add ginger, garlic, onion, and slaw mix; stir-fry with meat for 2 minutes until vegetables are wilted. Add Thai cooking sauce, stirring constantly to blend all ingredients, about one minute. Serve on warm tortillas and garnish with cilantro. Can serve on lettuce wraps too.
This post is listed @