For DT's birthday I made him his favorite, Strawberry Cake.  I am so not a baker but I was feeling adventurous and decided to make a 3 layer cake.  I mean how hard could it be?  Little did I know.
Ingredients
1 box white cake mix, 1 package strawberry jello, 4 eggs, 1 10 ounce package frozen strawberries, 1 cup oil, fresh strawberries for garnish
Add cake mix, 3 T flour, and strawberry jello to mixing bowl,
slowly beat in oil and eggs (oh I love my stand mixer),
Look at the beautiful color! Bake at 350° for 30-40 minutes.  I used dark pans and luckily I check them at 35 minutes because I think they were just a bit too brown should have gotten them out at 30 minutes.
The fun icing part was not pictured due to forgetting my camera.  Luckily I had my aunt, cousin, and Mom to help me.  It was crazy.  I started off making the powder sugar icing but I just didn't like the flavor of it, so I decided to make cream cheese icing.  My mom doesn't have a stand mixer, only hand held mixer, which I suck at.  So my cousin took over the mixing part.  We didn't have a box of powdered sugar so we guess it was around 3 cups, and slowly added from there.  Probably used a total of 4 cups. Thanks KL, Sue Sue, and Mom!
Then I iced the cake without cutting or trimming it to make it pretty and the icing was soft so it slurped and drooped and the cake was leaning so we used cut staws for support, then KL and I decorated with fresh strawberries.  Hey, at least it tasted good!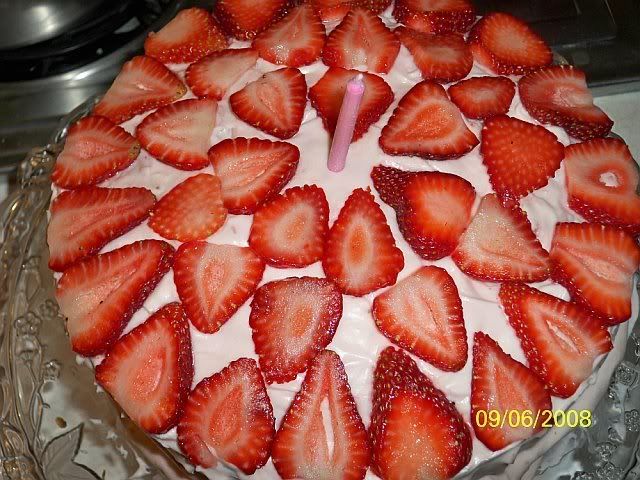 DT with his candle blowing helpers. (notice I also made homemade ice cream, aren't I a good wifey? ha)
Like I said, at least it tasted good!!
Print This Recipe

Strawberry Cake

1 box white cake mix
3 tablespoons flour
3-ounce package strawberry gelatin
1 small (10-ounce) package frozen strawberries
1 cup vegetable oil
4 eggs
1/2 cup cold water
Fresh strawberries for garnish

Thaw strawberries and reserve liquid for icing.

Combine cake mix, flour and gelatin. Add oil. Beat in eggs. Add water and strawberries. Mix well.

Pour batter into one 10-inch Bundt cake pan, two 9-inch round cake pans or three 8-inch round cake pans, which have been greased and floured. Bake in 350-degree oven for 40 to 50 minutes. Ice and top with fresh strawberries.


Simple Strawberry Icing (Original Recipe)
2 tablespoons butter
2 to 3 tablespoons strawberry juice
1 cup powdered sugar

Melt butter and add strawberry juice. Mix in powdered sugar until the desired consistency for either drizzling or spreading.

Cream Cheese Icing

This is the recipe I used instead, I like more flavor than boring powder sugar

1 Stick butter

1 8oz package cream cheese

1 box powder sugar

1 tsp vanilla

5-6 mashed fresh strawberries

Cream butter and cream cheese, slowly add powder sugar and then strawberries and vanilla, may need to add more sugar because the strawberries will give off some moisture if the icing is too thick add 1 tsp of milk at a time.